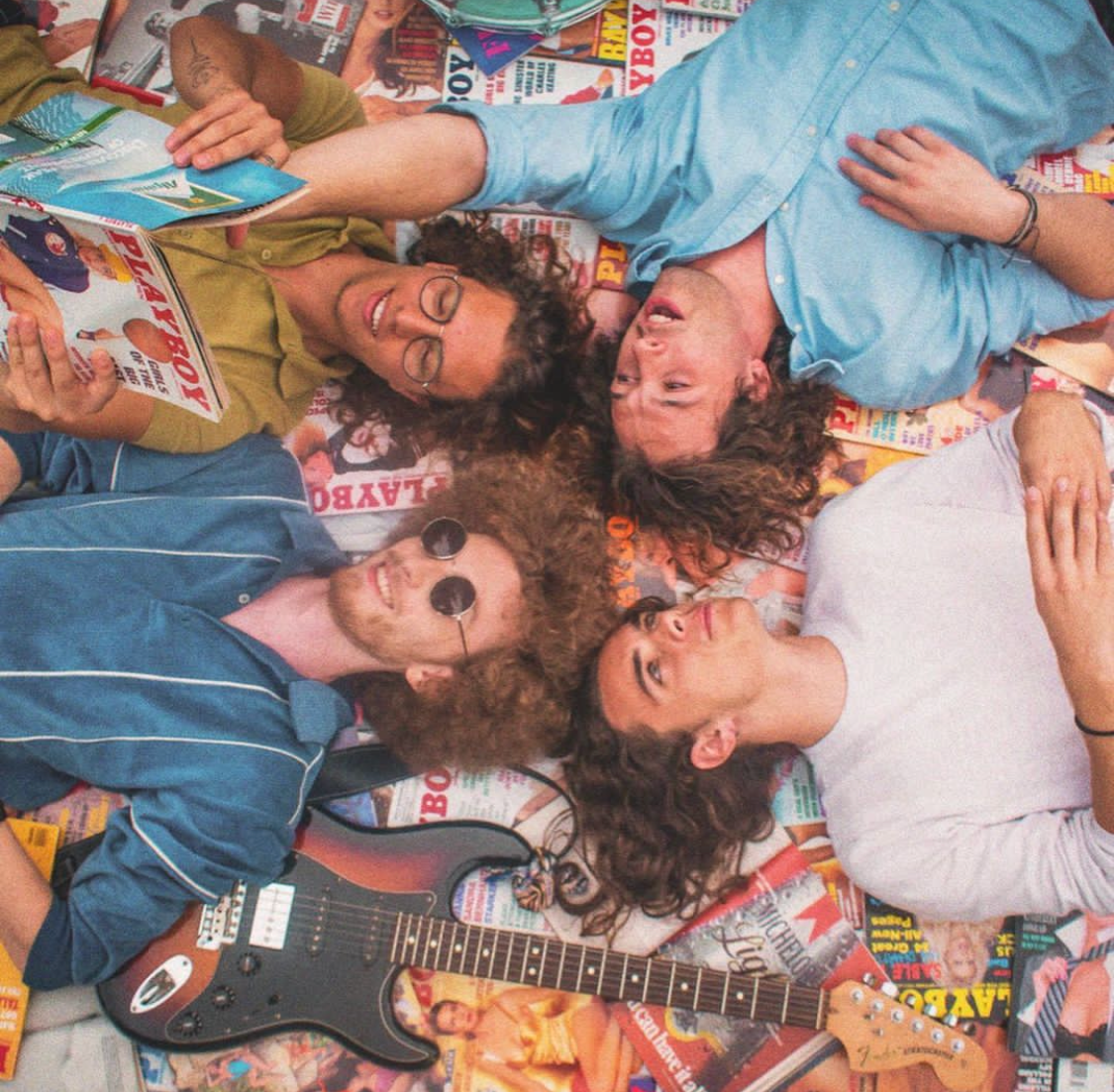 ← Back
a song for you: "Too Few Tattoos" by Pretty Jane & the Magazines
photo: @prettyjaneband on Instagram
Pretty Jane & the Magazines, a band self-described on Instagram as "4 dudes w curly hair & horrible time management skills," have mastered their attempts to combine a dreamlike indie single with absolutely ridiculous Instagram Reels.
The band's latest single, "Too Few Tattoos," has an ethereal quality, ultra romantic and almost gloomy, that pairs oddly well with the teen-like antics of their marketing and social media presence. The song opens with quasi-angelic vocals, somewhere between subtle and decidedly not, layered over a waltz with a steady downbeat. The instrumentation halts as the lead vocalist hits us with the first line, "She blows her smoke in my eyes," the effect over his voice just present enough. The background vocals return with a gooey exaggeration of that last word, the very sound of what it feels like to completely melt at the thought of that someone.
The band sways with us easily into the first verse, singing of a summertime girl who trips them up just so, the image of her hazy and indefinite. The singer questions the state of his mind as the rest of us build to the chorus with steady heartbeats in 3/4 time.
"'Cause I've been out looking for someone to lose, not too much time and not too few tattoos
And I love her, when I'm not awake, fix me a sunrise and I'll sleep in late."
I'm sure "I love her when I'm not awake" is meant to be interpreted as two distinct phrases, separating what the singer wants in his dreamlike girl from a scene set in a late morning awakening. When considered in tandem, though, the listener can't help but wonder if the singer loves her so truly that he loves her even in his dreams, or, rather, if she exists only in those dreams. As a lover is repeatedly referred to as "someone to lose" throughout the track, I'd assume it's the latter — she disappears when he opens his eyes. Hazy, indefinite.
This early bit of the chorus is the soundtrack of the goofy videos that brought many of us to Pretty Jane & the Magazines (@prettyjaneband on Instagram), myself included. The first time I heard these chords and lyrics, they accompanied a clip of three of the guys slowly driving up in a van — all looking directly into the camera, instruments in hand, the drummer playing a snare with what looks like a wooden spoon — before sliding offscreen.
That video came out about a week before the song's release, and since then the band hasn't stopped on their quest to somehow land in someone's feed with these stunts. One video features them hanging upside down at a playground, instruments still equipped, with the words "Day 2 of playing our song in progressively stranger places until someone notices." The second most recent as of my writing this shows three-fourths of Pretty Jane on skis, playing their song with a wintry background — in swim trunks. Add in the Spotify Canvas that features the lead singer getting a pie to the face over and over, and you have a pretty priceless combination of hopelessly romantic and ridiculously entertaining.
"Too Few Tattoos" is a short track; two verses, two choruses and a strong build to the very end. The guitar shines most in verse two with its moody interjections, and the intensity bleeds into the second chorus before the last "someone to lose." Plucky guitar intersperses playfully with extra punches to the snare drum toward the final notes, creating a groovy and urgent feeling before sending us off with loopy guitar licks in triplets and fast-paced drums that the mixing favors heavily.
Whether you've been sticking around to feel seen by these lyrics or just to see where else they play the song, Pretty Jane & the Magazines make sure you're sticking around all the same, waiting to see who they dream about next.